How would you manage if you lost your income?
Within the UK every year, one million people, unfortunately, find themselves unable to work due to serious illness or injury.
If something happened to you, would you be able to survive on savings or sick pay? Statutory sick pay is currently set at £92.05 per week (as of 2018 gov.uk), how would you manage to cover your outgoings and everyday living costs? With the current average living wage set at £300 per week, and constantly increasing, how would you manage with less than £400 per month?
Worse still, if you're self-employed, who is going to pay your sick pay if it's your responsibility to bring the money into the company?
They are hard questions to answer!
Even large amounts of hard-worked savings can vanish in a matter of weeks if you lose your income.
So, what's the solution to keeping your wage protected should anything happen? You should defiantly consider income protection.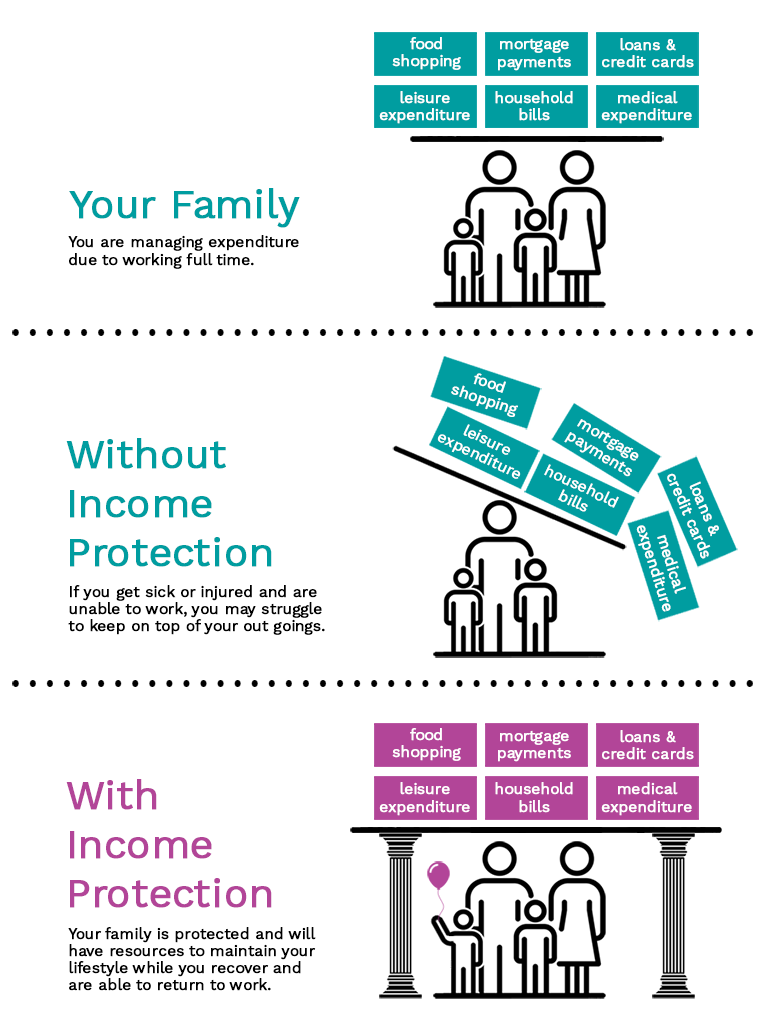 What is income protection
Income protection is a long term insurance policy intended to specifically help you if you can't work due to illness or injury, ensuring you receive a regular income until you retire, or are able to return to work. 
It replaces part of your income – providing you can't work due to illness or injury
It pays out until you are able to return to work – or you retire, the end of the policy terms or you die.
It covers most illnesses that render you unable to work – in the short or long term (dependant on policy type)
You're able to claim as many times as you need – while the policy lasts and you maintain payments.
Income protection shouldn't be confused with critical illness cover. Critical illness cover will pay out a lump sum in the event of a specific serious illness.
Income protection a wise option?
In 2017 only 300,000 people had payment protection insurance (ABI- Key facts 2018) and 1 million people were unable to work due to illness and injury (DWP). With only a minority of employers supporting their staff for more than a year, and considering the low level of state benefits available, everyone should consider income protection, especially if you're self-employed.
If illness meant you were unable to pay your bills, income protection is a very smart option.
If you are worried about being able to pay your bills if something were to happen to you, then talk to one of our independent financial advisors. It's free and you're under no obligation. Even if it's just to talk through your circumstances, give us a call or complete the form below, and we'll be in touch.
---
Arrange a free chat with one of our advisers
With many house household bills now increasing, why not have a free no-obligation chat with one of our friendly advisers? We've helped over 30,000 families get the right cover at the right price.